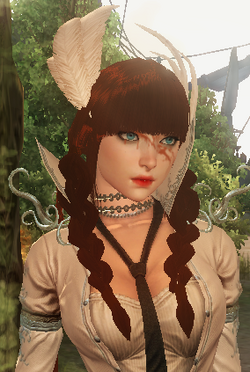 As an Admin of 3 other wikia's, I know what I'm doing. I try to add as much information as possible, in the most pleasant way possible. I'm not native speaking English, so it might contain some errors every now and then. Feel free to correct them.
I hope I can be of use to this wiki, and make it a good one. As of now it is lacking alot of information (which of course I was looking for as well!) and I'm willing to make a change. You can ask me anything about the game, as of now I have 2 characters made. I might not know everything yet, but I should be able to tell you anything about the main Gameplay.
Feel free to add me in-game, I play on the EU server - usually ch.5
My characters are:
Metalsan - lv.26 Warden (Witchblade class) - I play this char with a friend so she doesn't level too fast.
Metalsama - lv.9 Shaman (becoming Reapress) - I play this char with friends so she doesn't level very fast.

Apprentice Alchemist lv.10

Huppelkutje - lv. 20 Taoist (Shaman class) - My solo char and Guildleader of DeFlyingDutchman.

Journeyman Metalworker lv.12
So if you want to play with me, any cloth - leather - herbs - iron - metal are welcome!